The Fug Girls break down who rocked the red carpet and who missed the mark.

1. Worst Indecision: Winnie Harlow
Winnie nabbed a gig as a fashion correspondent for MTV, but we're confused as to why that requires a costume change while she's on the very red carpet she's supposed to be covering. It would be one thing if she couldn't decide between two slammin' ensembles, but she simply goes from one boring sheer dress to another, even sheerer one.
2. Best Decision: Ariana Grande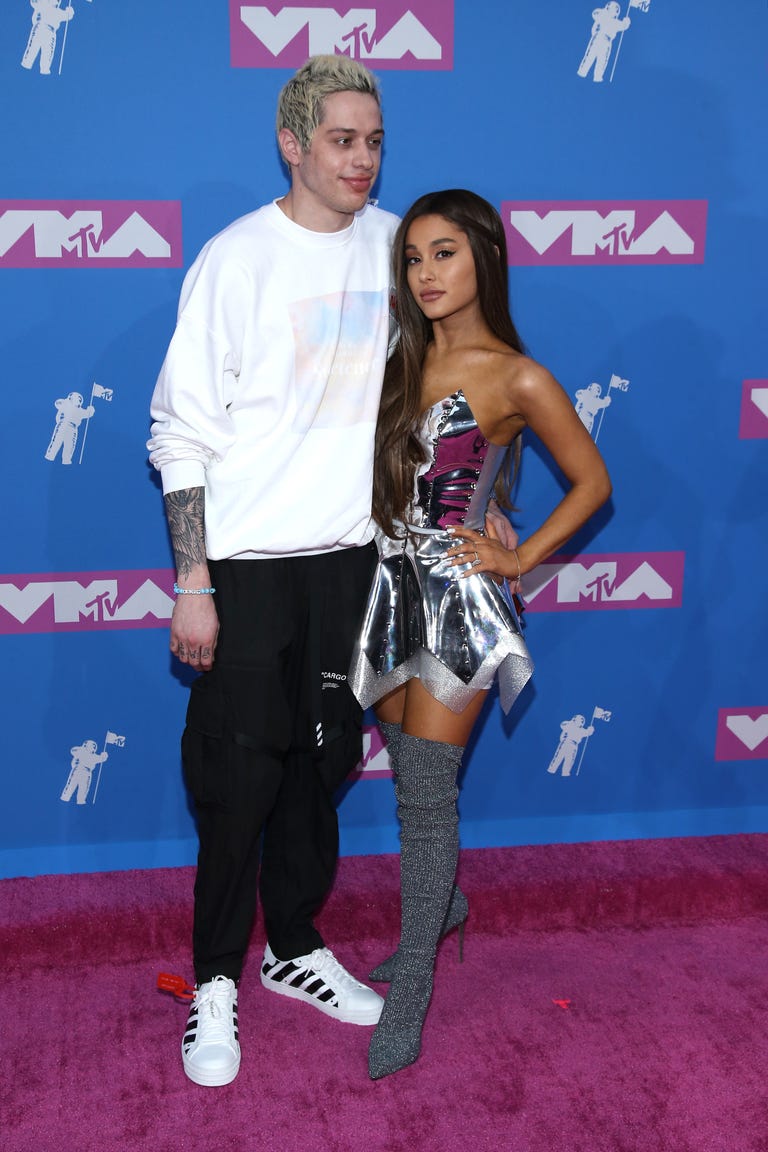 No, we're not talking about accepting Pete Davidson's proposal, although she certainly seems warm for his bleach-blond form. Rather, we're referring to Ariana scuttling her signature high ponytail for this party in favour of a shiny, sleek, and altogether more adult 'do. If Pete Davidson's BDE is responsible for Ariana shaking it up, well, long may your magical coupling reign.
3. Worst New Trend: Teyana Taylor's Hip-Less Pants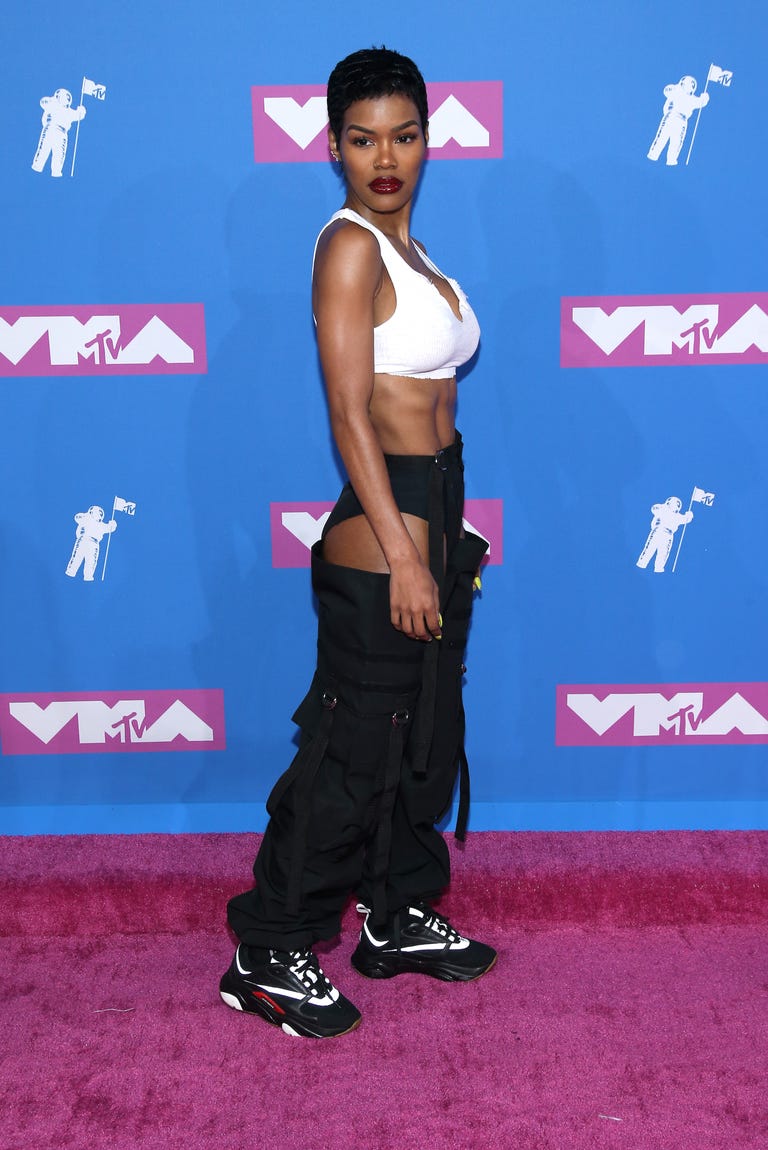 This feels like one of those OMG Look At What They're Trying to Sell Us Now! memes that pops up occasionally on Facebook. World, do not let hip-less pants become a thing. PLEASE, O Gods of Nordstrom, say no to cheek cutouts.
4. Quickest Escape: Tiffany Haddish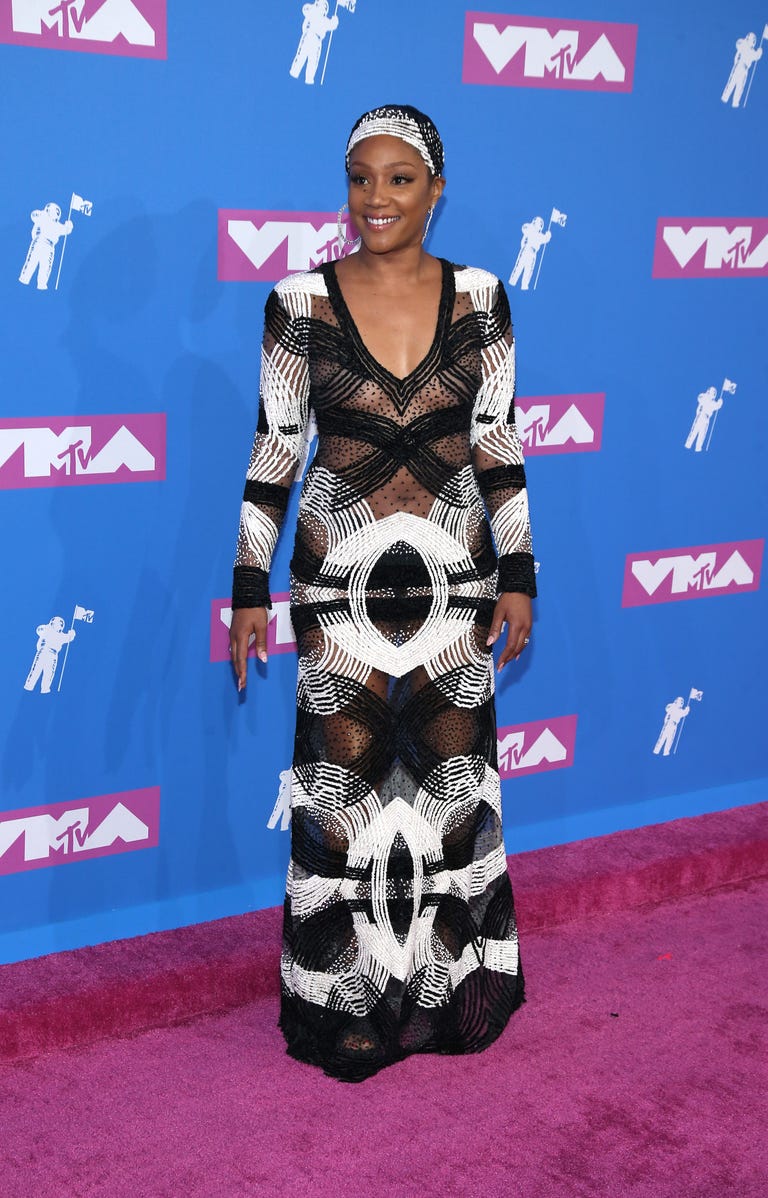 Tiffany's head looks great, but we were happier to see that she changed out of this sheath basically immediately after presenting the first award.
5. Most Costumey—Discount Halloween Store Edition: Amber Rose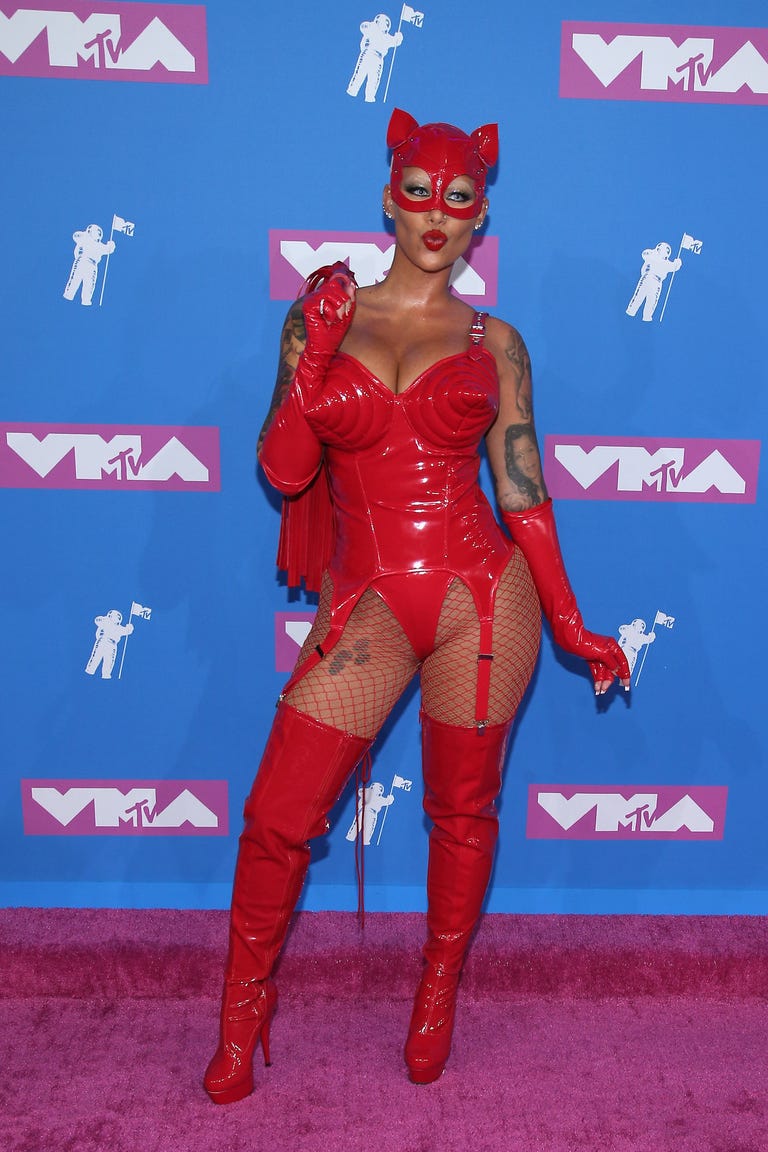 Honestly, if you had run odds on what Amber would wear to ANY given event, thiswouldn't even have been considered a long shot. What does she do on actual Halloween? Wear clothes from The Gap?
6. Most Costumey—Going About Their Usual Business Edition: Aerosmith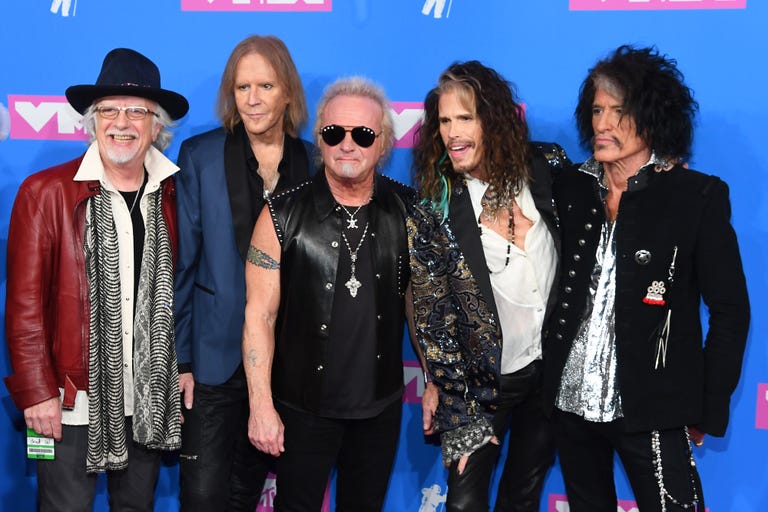 If you told us that 75 percent of this also came in a plastic bag on a hanger at Halloween Depot, we'd be tempted to believe you, had Steven Tyler and Joe Perry not been so wildly consistent over the years.
7. Best Palate Cleanser: Sofia Carson in Carolina Herrera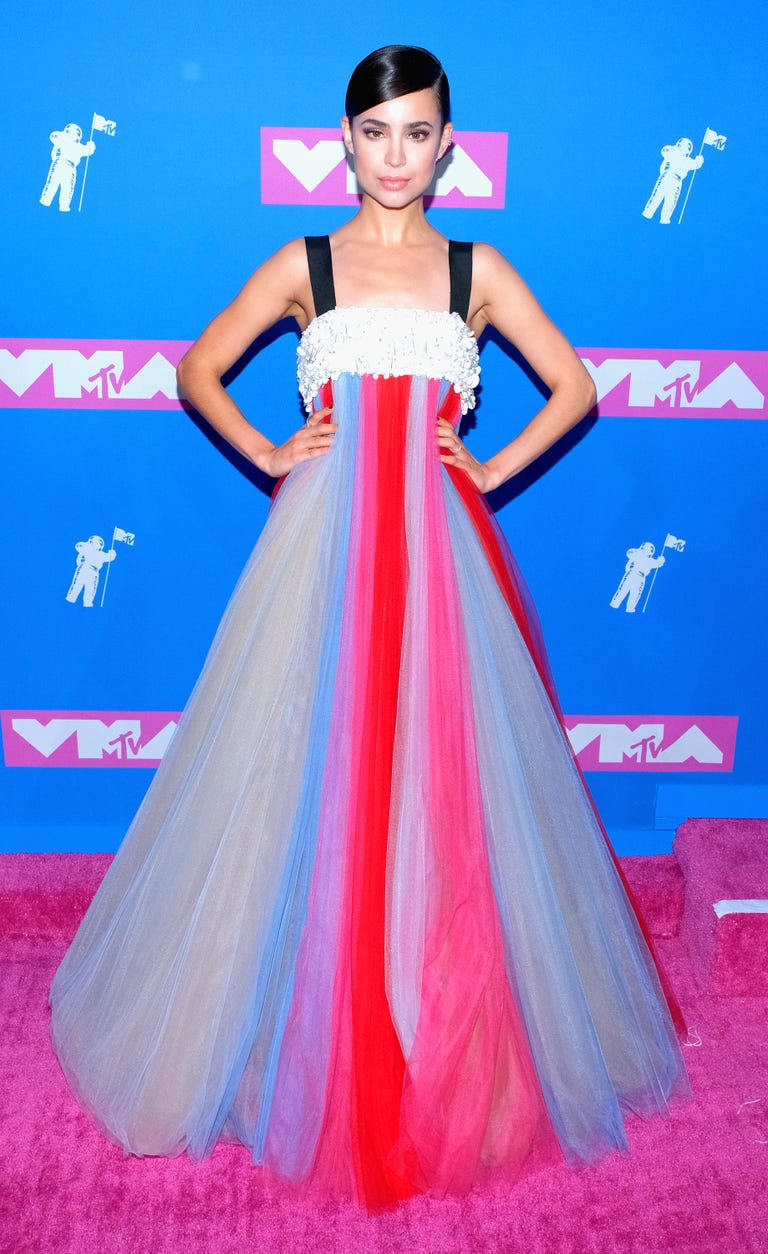 On a night that is, essentially, a sheer and strange circus, Sofia turns up in a gown that makes her look like the undisputed Queen of the Big Top. In a good way.
8. Foggiest: Dascha Polanco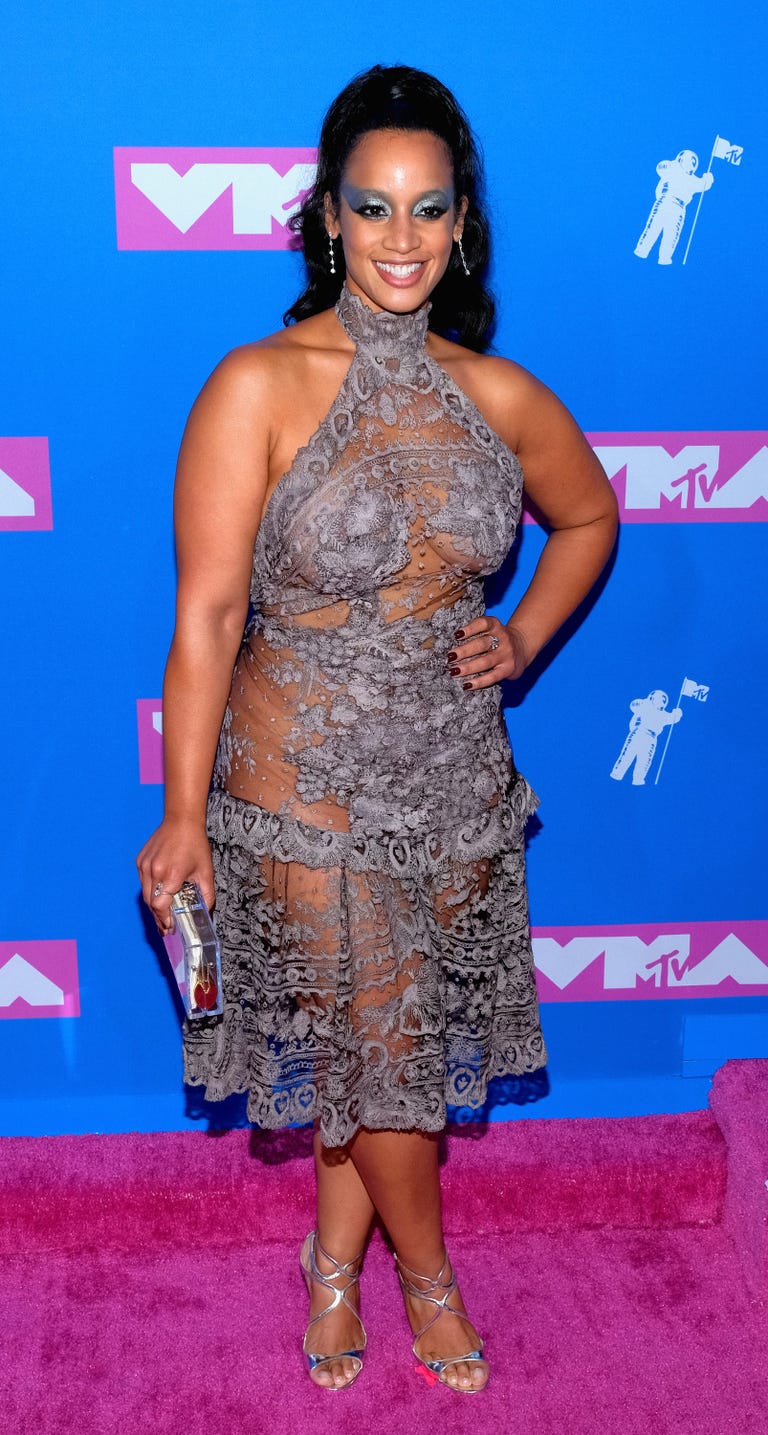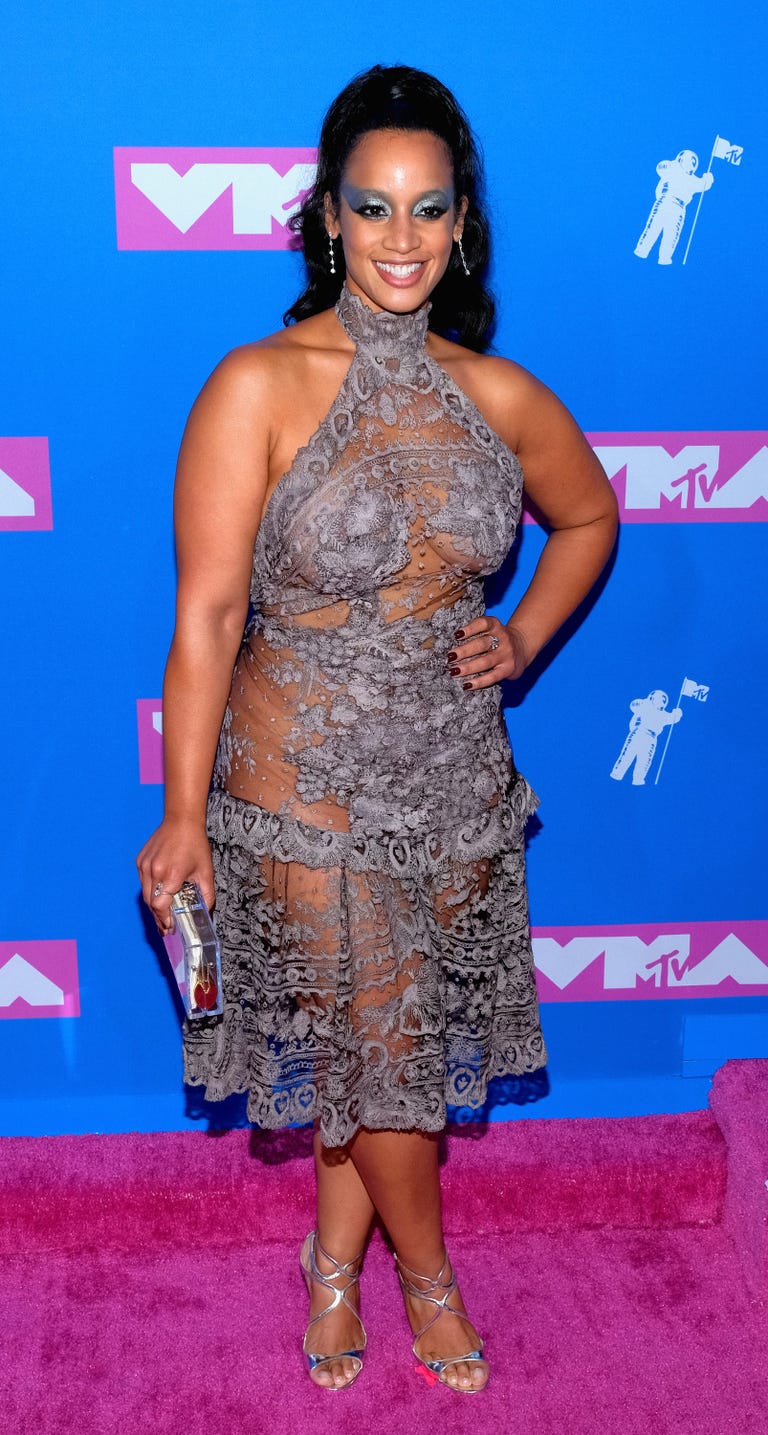 So many people went with the apparently never-dying transparency trend that it's impossible to pick one that we like the least. But while many of the other sheer efforts had consistent and identifiable patterns, this one just looks like stormy weather rolling in from the coast. Batten down the hatches.
9. Best Post-Baby Debut: Cardi B in Nicolas Jebran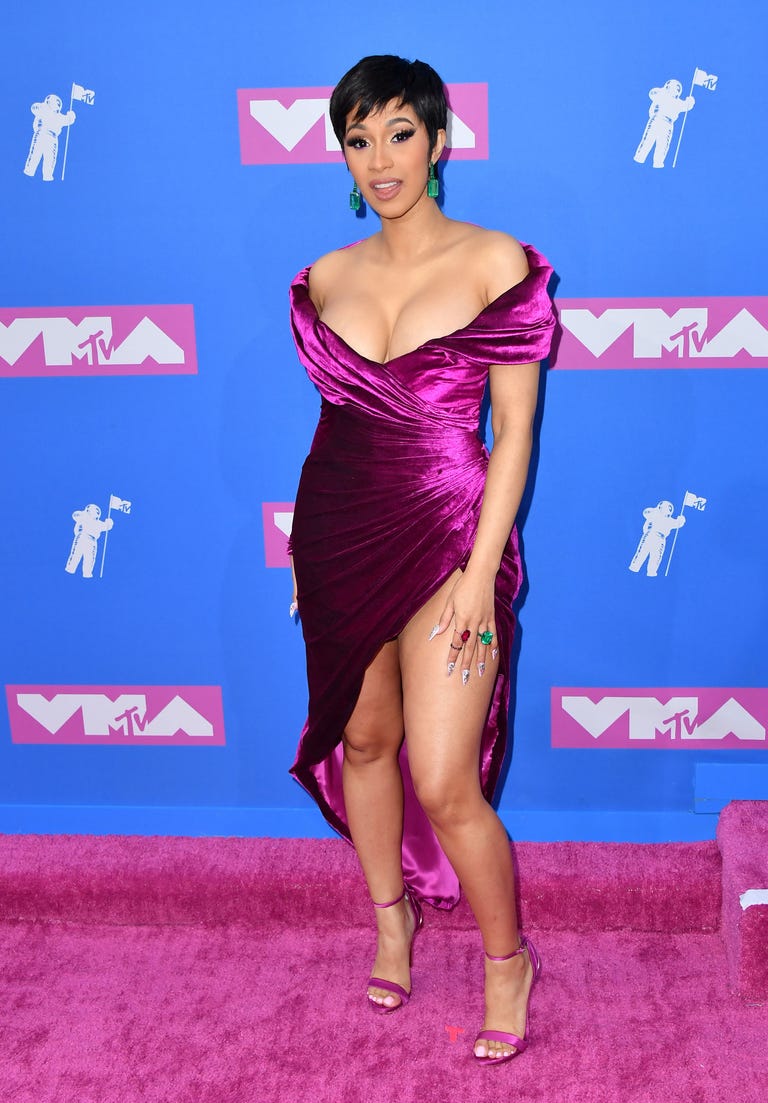 This is all-around delightful. The rich raspberry velvet, the gazillions of dollars worth of emeralds, the kicky pixie cut…Cardi looks both lively and elegant, a combination last seen at the VMAs…uh, never.
10. Pantsiest: Blake Lively in Ralph & Russo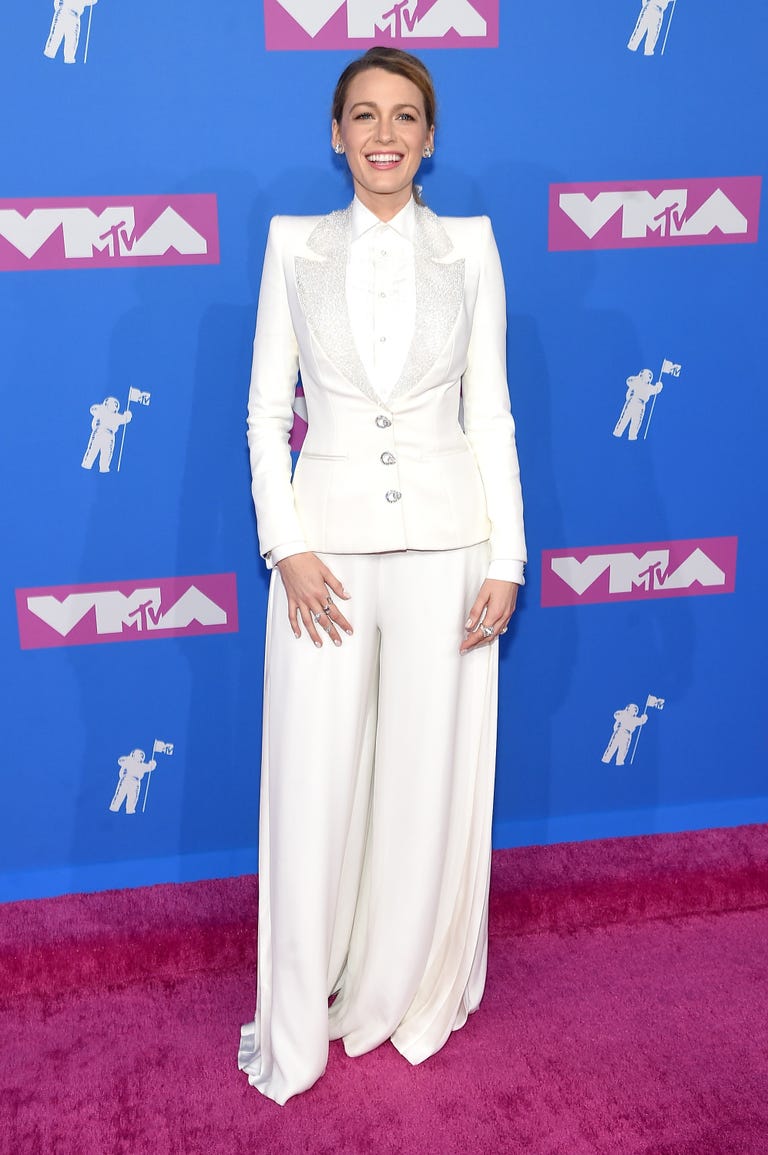 Blake wore FIVE OTHER SUITS this past week alone, and these are the very definition of a big finish. If she starts to run, she may well actually take flight.
11. Most Surprisingly Business-Like: Kylie Jenner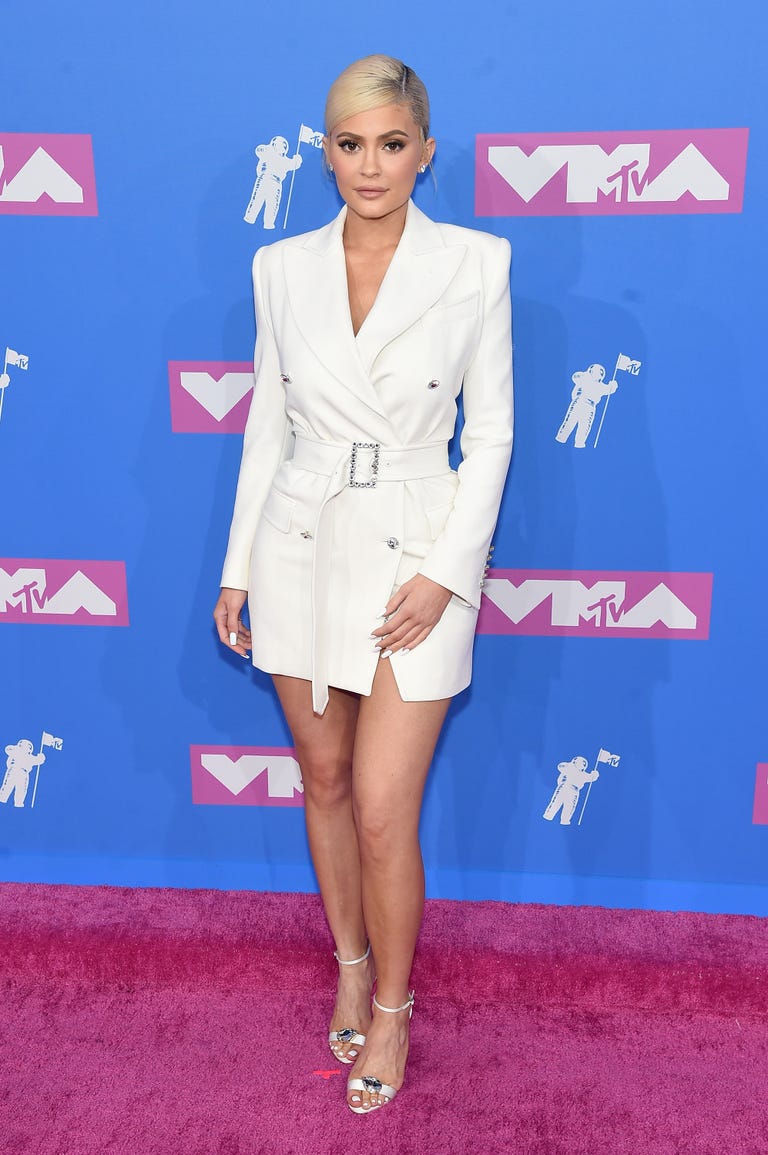 We feel weird: Kylie Jenner looks….chic, and adult, and coolly competent. We're both thrilled to be alive to witness this historic moment, and also feel unmoored by how extremely surreal it is. Here's hoping this turns into enough of a trend that we get used to it.
12. Most Princess-y: Camila Cabello in Oscar de la Renta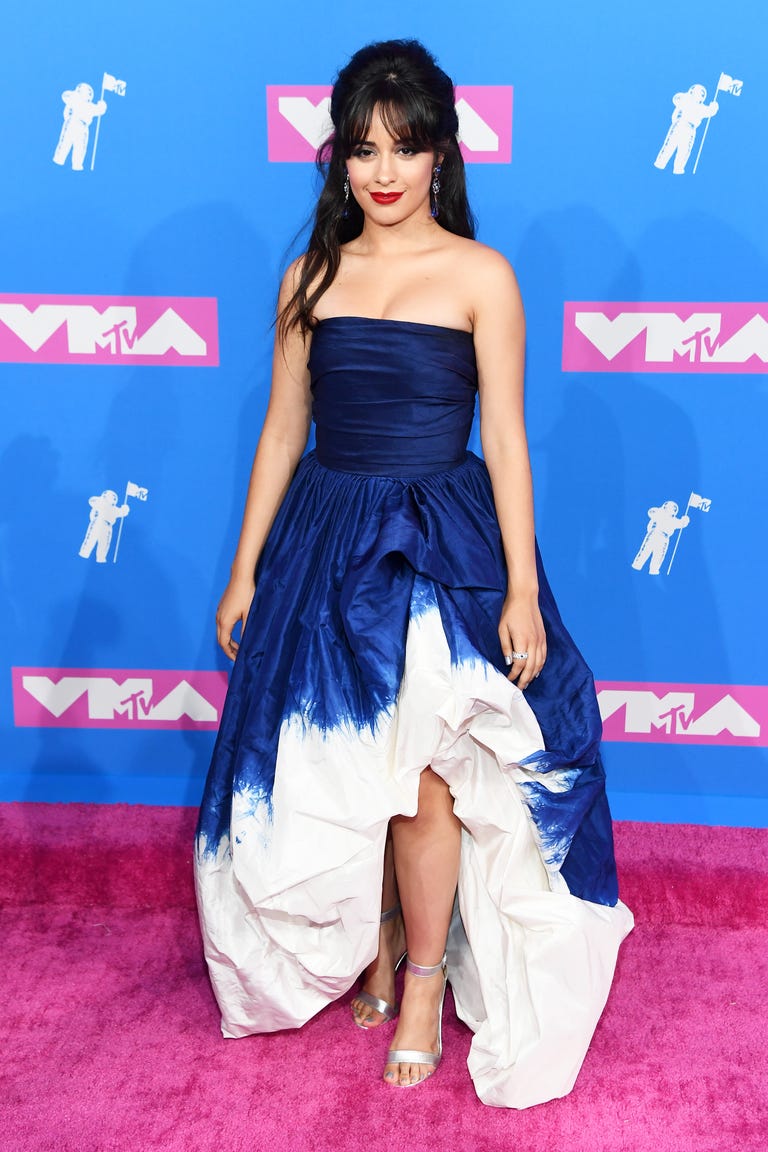 This might almost be too restrained for the VMAs, but the tie-dye effect and the high-low hem save her from seeming too straitlaced: It's fanciful and fun.
13. Most Restrained: Jennifer Lopez in Versace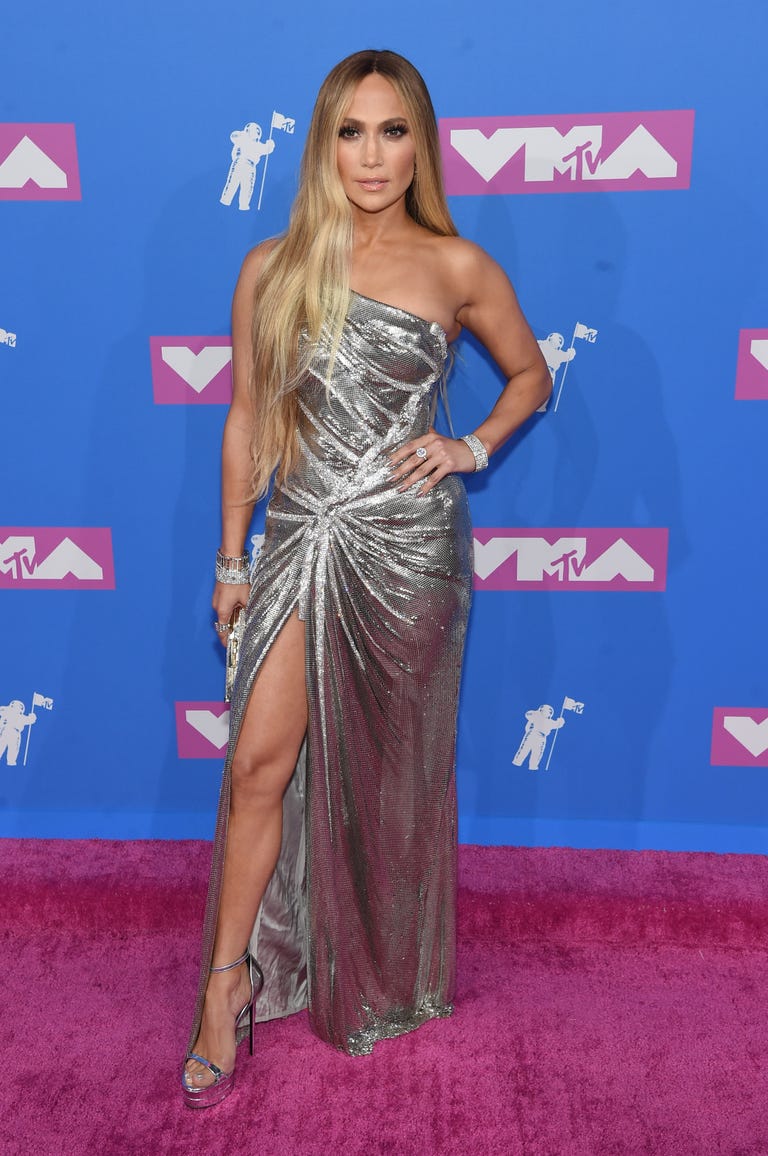 J.Lo got the Video Vanguard honour, which is the VMA equivalent of a lifetime achievement award—even though it frequently goes to people who are only partway through theirs. One might think she'd answer that call by going Maximum J.Lo, in something artfully designed to free the abs that she has sharpened to such precision that you could use them to slice cheese. But instead, J.Lo picks a slinky, sleek silver gown that flaunts her incredible assets just as well and just as confidently, if not more so. Shine on, you flawless diamond.


Mindo
The Top 13 Best and Worst Dressed Celebs at the 2018 MTV VMAs
Reviewed by
G4F Entertainment
on
August 24, 2018
Rating: