This is what happens when prostitutes disagree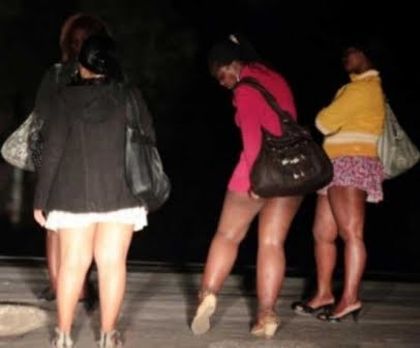 Hookers at a past instance. [Photo/Standard]
Nakuru hookers always give out the impression of a united team which can even jointly beat sense into male customers who are proving to be troublesome, at times as a result of defiance to pay for the services or mistreating one of them.
However, just like in any other group, they also disagree at times, collisions that are on most occasions as a result of personal differences or fights over customers, and these usually end up terribly.
As a student three or four years back, I used to frequent the Gusii Avenue every dawn on my way to Moi Secondary School in pursuit of academic excellence and would come across a number of them still hoping to attract late customers.
Severally, I witnessed them hurling insults at each other, insults that made rounds to come back to them as they called each other what they really are, branding each other 'malaya', the Swahili word for prostitute after disagreements.
At times, it culminates into fist fights, treating passersby to drama and free comedy as they wrestle to the ground.
Seemingly no longer having anything to hide and on most occasions tipsy, it gets to a point where dresses are torn apart to mark the magnitude of their anger.
The same still happens even now and in broad daylight as the Nakuru s3x industry has taken promotion to a 24-hour industry.
Now you know!



Realhitz.com
The Nakuru Hooker - Prostitutes
Reviewed by
Unknown
on
June 04, 2018
Rating: