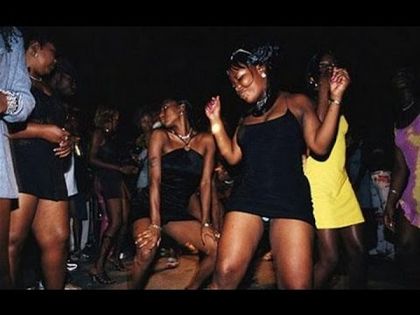 Ladies having fun at the club. [ PHOTO/ niajekenya.co.ke ]
Two university students believed to be from a public university in Eldoret town on Friday engaged in a fist fight in a famous club in the town.
The reason for the exchange of blows was alleged that it is a first-year
student whom they both claimed was their girlfriend. One of the two who was being referred to as Deno
had walked into the club earlier on with the first year lady who was only identified as Carol.
The two were having fun when at around 10:30 pm, a group of five men walked in being led by a man who introduced himself as Robert Kiplagat who claimed Carol was his girlfriend and he had come for her.
"She is my girlfriend and I am not leaving without her," Kiplagat who looked angry said.
Denis on the other could not let go of the lady. It is at this point that t
he two then got into a fight which almost turned ugly were it not for the intervention of the club's security guards.
"She is my girlfriend and I will not let him take her," Denis insisted while being held back from fighting by the security guards.
After the fight, the lady disappeared and nobody seemed to have known where she went. The security guards, on the other hand, said they are used to such fights and it is normal.
"We see such kind of fights almost every Friday and we are used to it," one of the security guards said.
After almost half an hour, the fight had cooled off, and activities were back to normal a the club.

Eldoret club on Fire as university students fight over girlfriend
Reviewed by
Unknown
on
May 23, 2018
Rating: