LADY SPENDS £15,000 A WHOPPING N7.5MILLION ON MULTIPLE PLASTIC SURGERIES FOR HUGE BUM IMPLANTS BUT WHAT HAPPENED NEXT IS UNBELIEVABLE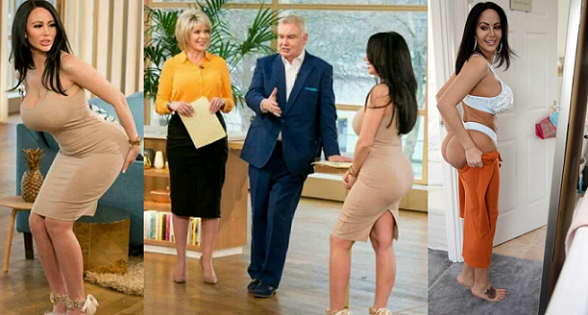 PHOTOS: LADY SPENDS £15,000 A WHOPPING N7.5MILLION ON MULTIPLE PLASTIC SURGERIES FOR HUGE BUM IMPLANTS BUT THEN ENDS UP UNABLE TO SIT DOWN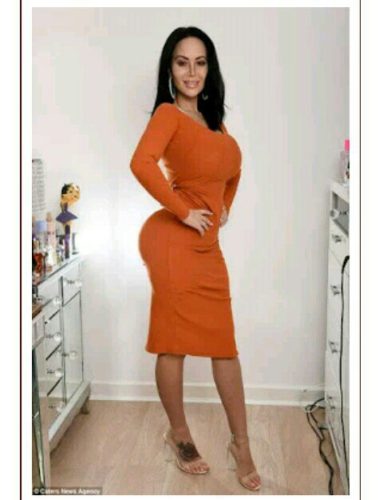 A Plastic surgery addict had to be interviewed standing up on today's This Morning – because her bum implants were too painful to sit on.
Star Delguidice, 28, from Birmingham spent a whopping £15,000 on bum implants but has said she wants them removed because they're "too big".
Star says she doesn't like the side view of her 'pointy' new bum
Star says that she began having plastic surgery at just 17-years-old and has now undergone around 200 procedures.
She has blamed her desire to change he appearance on her relationship with her mum and dad – claiming she had a stric upbringing with her Jehovah's Witness parents.
Star flew to Turkey for her latest procedure – bum implants – and the seven hour op involved draining fat fro her arms, thighs and stomach – before injecting it into her bum.
As a result of the surgery, Star says she is suffering with anxiety.
Star Delguidice appeared on the show to open up about her fears over her bum implants which doubled the size of her posterior, having undergone surgery 12 weeks ago and regretting her decision. Speaking on the show, Ruth explained:
'The reason we're standing Star is that you're really unhappy with the result and it's actually very painful for you to sit.'
Star replied:
'It's really painful. Extremely.' She revealed how she gained three stone, with the fat being transferred onto her hips and bum.
I did want implants as well but I didn't realise they would be that big,' Star said. Warning others about the craze of Brazilian bum lifts, she added: 'It's a very dangerous new craze. I didn't realise the dangers and the risks.
'I really did not realise what it was going to be like and it's just caused me great anxiety. It's insane.' She stated how she didn't do much research into the craze beforehand, describing herself as 'naïve'. 'I can be very naïve sometimes like many young ladies out there. I didn't do much research on it.
'I've never been happy with the way I looked. I used to be a size zero, really skinny, and my bum was really flat. But I do really miss my bum before.'
She's now having therapy to deal with post-traumatic stress following the surgery.
She previously told Fabulous: "It has a bit of an effect on me – mentally, and very much so physically.
"I haven't been able to take my lovely little dog out for a walk and that's affected me."
She continued: "I just want to live a normal life … if someone said 'would yo go through this again?' I'd say 'definitel not.'"
Star, who told the show that she does not want any more surgery now, went o to add that her obsession with her look stems from when she was a child and being "shut away". She said: "I'm not entirely blaming my family for the way I've turned out, but… you know…
"I'm always changing, I don't stop in the same kind of look.
"I have been addicted to surgery and I probably am addicted to surgery – but I am really scared now.
"I'm not ashamed to admit it – I'm havin therapy because I've got PTSD.
"At first, with my bum, looking at it I wasn't happy – I just wanted to take it off.
"I have to go out and take a pillow with me."
Star revealed that a private surgeon had told her to "leave it" for now when it came to any corrective surgery around her bottom.
Born Stacey, she grew up in Birmingha but was unhappy with her looks from a young age.
She blames her desire to change her appearance on her relationship with her mum and dad, claiming she had a strict upbringing with her Jehovah's Witness parents.
Star revealed they would tell her other children were prettier than her.
Bullied by her peers for not being able t join in things like parties, moving aroun 10 different schools led her to have few friends.
In total Star has spent around £220,000 on her surgeries
Star claims to have been abandoned by her mum aged 17 – when she had her first op – after she left her outside a hostel.
She worked as a pole dancer to save enough money to get a boob job, and went on to be a dominatrix.
Since then she says she had earned every penny she's spent on her looks, saving for a deposit on her first house six years ago, and going on to buy two more which provides her with income fo her surgeries.
Growing up in Lichfield, Staffordshire, she currently lives in a three-bedroomed terrace house in Selly Oak, Birmingham, with her pet Chihuahua, Tinkerbell.
Star, who changed her name by deed poll three years ago, previously told Fabulous: "All I care about is money an my looks.
She has suffered setbacks, with complications with lip fillers and a deviated septum in the past
"I like to ensure I look my best from every angle.
"If I don't, I'll book in another nip or tuck to make sure I do."
After her most recent surgery, bum implants, she has changed her mind an wants them removed.
Star flew to Turkey for the seven hour procedure, which involved draining fat from her arms, thighs and stomach and injecting them into her bum after gainin four stone.
But she opted for implants double the recommended size, and is worried they will explode and claims to feel them moving around.
Since getting them done, Star says she is now suffering with anxiety and panic attacks.
Star first went under the knife aged 17, when she had a lip filler and her first boob job taking her from a 32AA to a 32C.
Aged 18 she had permanent lip liner an eyebrows, and at 20 another boob job and a second lip filler.
At 21 she underwent forehead surgery, hair line reconstruction and more lip fillers.
She had her third boob job at 22, including jaw line surgery, a brow lift, cheek fillers and lipo.
By 23 she had another brow lift, a hair transplant and more forehead surgery, making it more rounded.
At 24 she had cheek implants, her fourt boob job, second nose job and designer vagina surgery.
Star had laser hair removal, fillers, Botox more lipo for a thigh gap and a second designer vagina procedure.
She then had thread lifts, nipple reduction surgery and a third designer vagina op.
Aged 27 she had blepharoplasty surgery (eye lid reduction) more liposuction and tightening of eyes, and a third nose job.
Her latest procedures, age 28, were a fourth nose job, bum reconstruction, more lipo, veneers and a gum reduction.
But she has suffered setbacks over the years, with complications with lip fillers and a deviated septum in the past.
In total Star has spent around £220,000 on her surgeries.
Her bum lift is said to have cost £15,00 alone, her jaw and forehead contouring cost £24,000, and she forked out £15,000 for a fresh smile.
Her four nose jobs cost £16,000, as did her four boob jobs, and her nipple reduction cost £2,000.
Eyebrow fillers came to £3,500, with lip and cheek fillers, and botox costing £30,000 a year.
The five liposuction operations cost £10,000, and the three designer vagina procedures cost £12,700.
Her blepharoplasty cost £6,000, and she forks out £2,000 a year for PDO therapy an effective cosmetic technique that lift and tightens sagging skin tissues.
She says it costs £3,000 a year to maintain her appearance, which include acrylic nails, new make-up and skincare and hair treatments.



REALHITZ.COM
LADY SPENDS £15,000 A WHOPPING N7.5MILLION ON MULTIPLE PLASTIC SURGERIES FOR HUGE BUM IMPLANTS BUT WHAT HAPPENED NEXT IS UNBELIEVABLE
Reviewed by
Unknown
on
March 13, 2018
Rating: