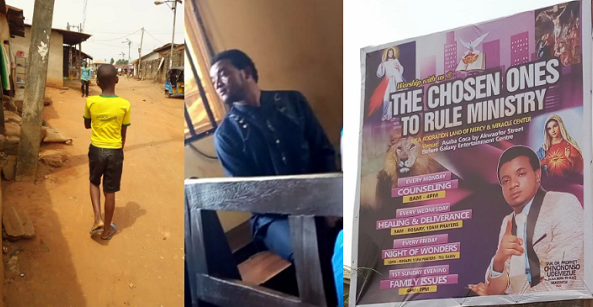 REALHITZ.COM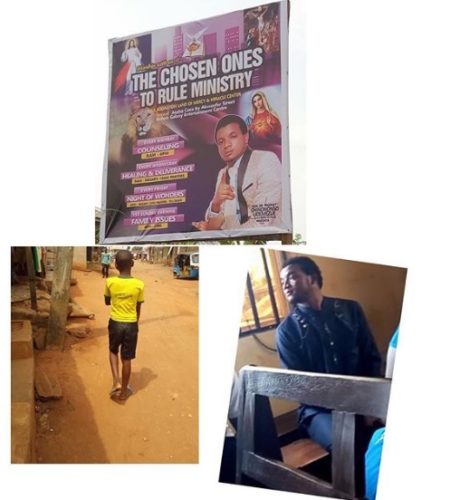 The Senior Pastor of The Chosen One To Rule Ministry in Asaba, the Delta state capital, Prophet Chinonso Udemezue, has been accused of defiling a 10 year old boy identified as Oluchukwu. Humanrights activist, Prince Gwamnishu Harrison, who shared the sad story online this afternoon, wrote
"On 5th February, 2018. Snr Dr. Prophet Chinonso Udemezue Senior Pastor (The Chosen One To Rule Ministry) prophesy that little Oluchukwu will be kidnapped. The guidance hurriedly took Oluchukwu to Prophet house for prayers and safe keeping.
"It was the first time he's doing it to me. At night he gave me his phone and played a film of people naked. He removed my clothes and rubbed something like oil and inserted his penis into my Anus" Little Oluchukwu told the police
The Prophet Lawyer, Church members (All female) are begging for settlement. The boy aunty want to collect money but I have warned her the dangers involved. He denied it but ready to pay and close the case.
Will handover this case to office of Public Defender Ministry of Justice Asaba.
Protect your child, watch them closely, ask questions before it is too late.
Where is CAN office located in Asaba?".






REALHITZ.COM
PHOTOS: NIGERIAN PASTOR RAPES 10YEAR OLD BOY IN DELTA STATE
Reviewed by
G4F Entertainment
on
February 17, 2018
Rating: