…As Ondo govt vows to regulate herdsmen activities

…We'll nab culprits—Police Commissioner
…OPC'll continue to protect Yoruba interest — Gani Adams
….Buhari's silence disappointing — FALAE
By Dayo Johnson, Dapo Akinrefon, Gbenga Olarinoye & Rotimi Ojomoyela
Akure—Former Secretary to the Government of the Federation, SGF, Chief Olu Falae has said he would not be intimidated over his sad experiences in the hands of rampaging herdsmen and expressed disappointment over the silence of President Muhammadu Buhari on the matter, following the recent attack on his farm in Ondo State.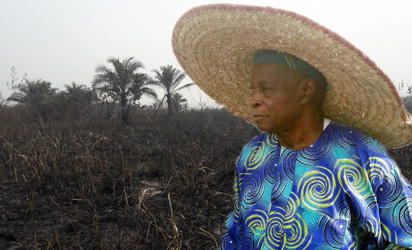 Olu Falae inspecting his farm after it was set ablaze by herdsmen
This came as the Ondo State Government, yesterday vowed to regulate the activities of herdsmen in the state.
But when contacted, the Presidency kept mum on the attack as Special Adviser to President Buhari on Media and Publicity, Mr Femi Adesina said: "It is not a Presidency affair."
The Ondo Police Command, however, assured that investigations are under way to nab the arsonist that perpetuated the act.
On its part, the Oodua Peoples Congress, OPC, condemned the attack vowing to protect Yoruba interests across the country.
Falae expresses disappointment
Falae spoke with newsmen after state government officials and the state Police Commissioner, Mr Adeyanju visited his farm, which was set ablaze in Ilado, Akure North area of the state.
He, however, vowed to resist intimidation and harassment by the herdsmen to chase him out of his farm of 32 years.
He said: "My farm has been destroyed five times within three years and it is a deliberate means to probably kill me, run me out of business and away from the farmland which is not possible."
The former Finance Minister equally insisted that "there shall not be cattle colonies in any part of Yorubaland. It's a fraud."
Asked if he was not worried by the silence of the President on the activities of the herdsmen, he said "it is only President Buhari who can answer the question why he is silent over these Fulani herdsmen atrocities."
He said: "I have expected him for over two years to take an initiative and make a national broadcast to Nigerians and assure us that he would handle the matter by announcing effective measures that could control the rapacity of the herdsmen.
"He has failed to assure Nigerians that we and the herdsmen can live together in peace without the other side damaging the other. I am disappointed that I have not heard this from him.
"If I were the President, I would have taken the initiative because this is not a problem that cannot be solved. Many nations have gone through this, this mode of cattle rearing is universal but in the last hundred years, most nations have solved the problem by adopting ranching.
"Ranching is cattle farming and a legitimate and profitable business run by private business men. But they are trying to take my crops to feed their cattle to subsidise their own business because they are forcing me, by invading my farm in the night, to supply free food to their cattle and when they sell the cattle they don't give me part of the money."
Faults cattle colony
"I will try to contain myself because I am provoked. You know Nigeria was a colony; through the efforts of our leaders, we were able to get the British to leave and we are free. A colony is a territory that is a dependent territory; more or less owned by another nation. Thank God, since 1960 we are no longer a colony.
"In Nigeria, to mention the word colony has political connotation, not economic. A colony is a political entity which someone said he wants to create in the territory of another; that is a provocation; that is a terrible thing for anybody to contemplate. I am sure it was a mistake; I hope my friend Audu Ogbeh will withdraw that obnoxious policy."
Recalling the attack on his farm last year, Falae said: "What happened last year was tremendous and we made claims of over N2 million that is still pending; we are not asking for compensation, what we are asking is for our farms to be left alone. The place that got burnt yesterday will be up to 125 hectares."
"At first, they will come in the night to fetch water and we were tolerant because they did not touch or destroy anything but we did not allow them to stay here but later it took a different turn all over Nigeria.
"They will come in the night, eat our maize and in three years, I've reported to the police over 10 times.
Why they burnt my farm
"Every year, they set fire to my farm and do you know why? There are two elements to their actions, first is economic; they burn this farm because the grass is already dry and cows don't like that. So they burn the grass and in two weeks time fresh grass will grow and their cattle will have fresh grass to eat. In order words, they are already treating my farm as if it was their colony. They do this every year.
"But to burn palm trees, it amounts to act of malice and hatred and I believe they have malice against me. They hate me, that is why they will burn my palm trees, uproot the palm trees I planted and throw the seedlings away.
"That does not help the cattle in anyway, I believe if they saw me in person, it is me they would hurt.
"They started the fire at the centre hoping that it will spread to the whole area but the early action of our people here prevented the fire from spreading and doing more damage to the farm.
"I condemn the action, but what is more important is that I will take some actions and government should take steps to make sure they don't do it again and if they don't take steps to prevent it, it means that government supports what they are doing, they are not offended by what they are doing.
"Government at all levels, especially the Federal Government should be a government for all of us regardless of how many votes we cast at the election time; we are all entitled to the protection of the Federal Government.
On the proposed establishment of cattle colonies, Chief Falae said: "The proposal that says that rangers will accompany cattle moving from one colony to another is a very provocative and repugnant proposal.
"The word colony" is a repugnant political word because it means one group of people dominating another.
"The British came to Nigeria and colonised us by force and made us their possession. A colonial arrangement regards other human beings as possession of others.
"It is almost treason. It is repugnant, provocative and should be withdrawn and the person who coined it should apologize to Nigerians."
Cattle colony policy makes no sense
"Looking at the proposal itself, assuming other terms have been used, it is unsound and makes no sense.
"The proposal said government will acquire an area in a state and plant grass there for the cattle to feed on. The question I want to ask is: Why must the cattle travel from their ranch to another colony? The ranch across the world is self-contained, because there's water there, there is processing facilities and you don't have to march your cattle from one colony to another colony.
"There's no justification for this, except you want to perpetuate Fulani herdsmen burning our territory; we want to know the reason.
"The idea that we will train rangers to accompany cows moving from one colony to another is a huge unnecessary financial burden on the Federal Government because there is no need for cattle to march from colony to colony.
"If we train rangers it should be to maintain peace generally not listed to cows that are now being given special status like our governors or head of state. It makes no sense, it is absolute nonsense. They have insulted the intelligence of Nigerians, it is nonsense.
"My suggestions that day were that, there are states that are homes to cows, so it is that relevant state government that should carry the burden and not the Federal government.
"I am not saying the Federal government should not assist but the primary responsibility for animal husbandary belongs to the state government. The state government should be made to accept their responsibility by looking at their people and the farmers too should be the responsibility of the state government.
"Let them carve out areas for cattle farmers in those states that are home to cattle and assist them to set up ranches.
"Ranches are private things and not government responsibility but government can help them to prepare water and make the ranch self sufficient.
"Government can even give them subsidised loans to establish and become viable and profitable ranches, that is the solution and not this nonsense of cattle roaming between one colony to another colony.
We'll regulate herdsmen activities—Ondo govt
Expressing sadness over the arson, Ondo State Commissioner for Agriculture, Gboyega Adefarati, who led a government delegation to the farm, said it would soon transmit a bill to the State House of Assembly to regulate activities of herdsmen in the state.
It's a dastardly act—Ekiti govt
Enraged at the razing of Falae's farm, the Ekiti State government has described the action of the arsonists as a dastardly act.
Condemning the act, the Commissioner for Information in Ekiti State, Mr Lanre Ogunsuyi said: "The action of the unknown Fulani herdsmen is a follow-up to the lukewarm attitude of the Federal Government to the destruction unleashed on Nigerians by the cattle breaders. It is a continuation of the attempt to colonise Southern Nigeria by the Fulani and every well-meaning citizen and farmers should now sleep with just one eye closed."
Police'll nab arsonists— CP
Assuring that the Police Command is on top of the situation, the Police Commissioner, Mr. Olugbenga Adeyanju said no arrest had been made.
He said: "I have spoken to Baba Falae and assured him that we are on top of the situation; the situation is not as bad as being exaggerated."
He noted that the command has also commenced investigation to nab the culprits who set the farm on fire since nobody was caught on the scene.
Osun Govt reacts
Also reacting, the Osun State government described the act as criminal and should be condemned by all lovers of peace and justice.
The state Commissioner for Information and Strategy, Mr Adelani Baderinwa said: "We are unhappy that such thing could happen for the second time to Chief's Falae farm, an elder statesman.
"It is an extension of what is happening around the country. We call on the Federal government to find lasting solution to the problem that is gradually becoming perpetual and spreading all over the country."
It's a threat to peace —Ajimobi
Condemning the attack as a threat to peace and economy of the land, Oyo State Governor, Senator Abiola Ajimobi, described it as one attack too many.
Expressing sympathy with Falae through a statement by his Special Adviser, Communication and Strategy, Mr. Yomi Layinka, the governor said the unprovoked attack against the elder statesman was a threat to peace and economy of the land.
He called on security agents to do every humanly possible to fish out the culprits and bring them to justice in order to serve as deterrent to others.
OPC'll continue to protect Yoruba interest
On its part, the OPC condemned the attack describing it as "wicked, rude and shocking."
In a statement by the Publicity Secretary of the Gani Adams-led OPC, Barrister Yinka Oguntimehin, said: "As a group that is poised to protect the interest of the Yoruba wherever they live in the country, we believe strongly that it is the duty of every responsible government to protect the lives and property of the citizenry; however, we urge the federal government to sit up and nip the unwholesome activities of these herdsmen in the bud."



REALHITZ.COM
Herdsmen's attack on Falae's farm not a Presidency affair — Adesina
Reviewed by
Unknown
on
January 23, 2018
Rating: