Home to some of the finest home furnishing stores and vintage flea markets, and the world's most prestigious home décor trade show—Maison et Objet—Paris is endlessly enticing for travelers who love architecture and design.
Modern Parisian homes, many of which are located in historic buildings, tend to include carefully considered vintage pieces and colorblocked walls that add a littlejoie de vivre to interiors.
If you're planning your next vacationin the City of Light, then we suggest taking a look at these eight holiday apartments that blend old world charm with modern style.
Average price: $355 per night
Previously an old factory in the Montreuil district in the eastern part of the city, this loft-style residence has a numerous skylights, large windows, and high ceilings. Its walls are painted in bright colors, and a bathroom boasts a glass ceiling. | Book Now
Courtesy of Boutique Homes
Average price: $295 per night
Conveniently located between the 5th district and the Latin Quarter, and close to many of Paris's main attractions, this penthouse apartment has cool concrete floors, and a 300-square-foot private roof deck that offers beautiful views of the city below. | Book Now
Courtesy of TripAdvisor Rentals
3) Apartment in Restored 1940s Theater
Average price: $421 per night
A restored 1940s theater and restaurant, this vacation home in the 10th arrondissement is now an open and spacious residence with an interior courtyard and stylish, vintage décor inspired by its "dramatic" past. | Book Now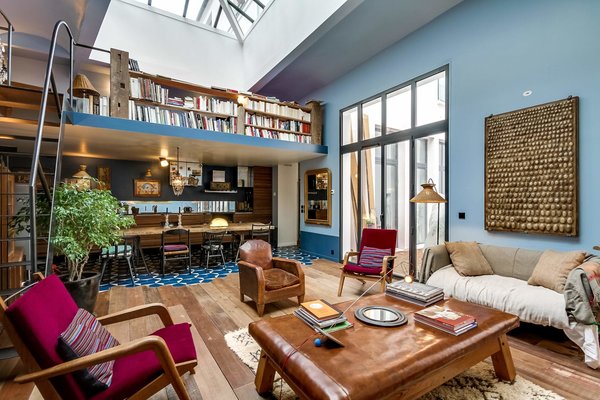 Courtesy of Boutique Homes
4) Skylit Loft in Canal Saint-Martin
Average price: $641 per night
A five-bedroom loft apartment that can sleep up to 11 guests, this home is fitted with plenty of skylights, and furnished in a style that melds historical French accents with clean, modern lines. | Book Now
Courtesy of HomeAway

Average price: from $398 per night
Located on the upper floors of a former 1850s warehouse building, this spacious loft has ceilings that are 23 feet high, and is split into a lower level and a mezzanine where an office, a bedroom, bathroom, and two dressing rooms are located. | Book Now
Courtesy of Boutique Homes
6) Small and Smart Saint-Germain-des-Prés Apartment
Average price: $297 per night
This tiny, 161-square-foot apartment in Saint Germain is cleverly configured with sliding partition screen walls, so it can fit up to six guests in three sleeping nooks. | Book Now
Courtesy of HomeAway
7) Inverted Hull-Shaped Apartment
Average price: from $2,312 per week
Located within an 18th-century building in central Paris's Marais district, this apartment, which is shaped like an inverted boat hull, was remodeled with a grand staircase and rich colorblocking, and furnished with items crafted by the designer couple who own the property. | Book Now
Courtesy of Boutique Homes
8) Elegant One-Bedroom Saint Germain Apartment
Average price: $368 per night
This one-bedroom condominium apartment in Saint Germain was refurbished in 2012 with a brand new bathroom and fully equipped kitchen with a brick bar counter. The master bedroom has direct access to an outdoor terrace. | Book Now
Courtesy of TripAdvisor Rentals



REALHITZ.COM
8 Charming Parisian Apartments You'll Want to Book Right Now
Reviewed by
Unknown
on
January 05, 2018
Rating: