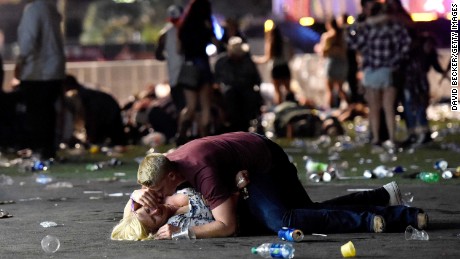 Watch first: Here's what happened last night in Las Vegas 01:41
October 2, 2017 4:54pm EDT
What we know right now:
What happened:

At least 59 people were killed and more than 500 hurt in a shooting last night. Witnesses said it lasted 15 minutes.

The suspect:

The gunman, 64-year-old Stephen Paddock, is dead. He was not known to authorities.

The location:

It happened during a country music festival on the Las Vegas Strip. The shooter fired from the 32nd floor of the Mandalay Bay hotel.
If you're looking for a missing loved one, call (866) 535-5654.
Shooting survivor: "I thought that I was gonna die"
Las Vegas shooting survivor Kimberley Folle said she began calling her loved ones the moment she realized what was happening.
"I thought that I was gonna die," she said. "I was just running as fast as I could, calling everybody that I could think of to let them know what was going on and just to say, you know, I loved them."
Folle said she called her parents, sisters and friends as she ran.
"I'm crying. I'm running. I'm out of breath. I'm, you know, freaking out trying to explain it," she said
.....RH.......
Las Vegas shooting: Live updates
Reviewed by
Unknown
on
October 02, 2017
Rating: